There's no doubt the '80s had some "killer" horror movies; 'Friday The 13th', 'A Nightmare On Elm Street', and 'Poltergeist' just to name a few. In 1988, kids everywhere began throwing away their childhood dolls after being terror-stricken by the unnerving box office thriller, 'Child's Play', the inspiration behind this homemade Chucky Costume.
If you've been living under a rock, the movie is about a popular kid's toy (a Good Guy Doll named "Chucky"), who becomes possessed by a dying voodoo-practicing serial killer who breaks into a Chicago toy store to hide out after being chased and shot by police. Chucky is later purchased in a back alley by struggling single mom, Karen, for her 6-year-old son Andy's birthday. As you may have guessed, Chucky becomes animated despite having no batteries at all and begins seeking revenge against those who wronged him and anyone who gets in his way.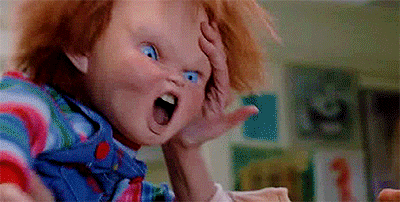 Throwback Halloween: Easy Homemade Chucky Costume For Toddlers contains affiliate links. This means if you purchase an item using my links, I get a small commission. Don't worry, there's no extra cost to you! You can read my full disclaimer here.
Grab Your Own Copy To Watch This Halloween!
Unsurprisingly, Child's Play has gained a cult following over the years and continues to strike fear into the hearts of Halloween horror movie lovers everywhere. Naturally, I had to dress my toddler as Chucky for Halloween while he still lacked his own free will.
Inspired by a pair of Osh Kosh B'Gosh overalls and red Chuck Taylor shoes my son had in his closet last year, I jumped at the opportunity that was practically slapping me in the face. With a few quick purchases from Amazon, I had made my own homemade Chucky costume that shocked even me. Here's what to do…
Yep, You Can Own Your Own Good Guy Doll!
For Your Own Homemade Chucky Costume You Will Need:
Costume Item #1: The Overalls And Shirt
You can buy the "costume" on Amazon as a packaged deal, or you can do what I did and just use an old pair of overalls you already have. Then, you can buy a striped shirt separately for much cheaper, which by the way, is also better quality.
Chucky Costume: Shirt Only:
Chucky Costume Item #2: The Good Guys Patch
This is just your basic iron-on patch. While it isn't eligible for Prime Shipping, it only took a couple of days to arrive at my house.
Chucky Costume Item #3: The Shoes
As I said before, my son already had a pair of red Converse shoes to tie the costume together. Any red shoes will do, but if you'd like to purchase a pair that your toddler can continue to wear after Halloween I recommend these classic Converse shoes (in red of course).
Chucky Costume Item #4: The Hair
Given that carrot tops only account for about 2 percent of the population, you'll likely need to artificially color your kid's noggin. When it comes to making your kid a redhead, any red Halloween hair dye will do the trick. This product by MS.Dear is what I used and was very pleased with the end result. It makes a bright, brilliant color that covers nicely and is easy to wash out at the end of the night. Just a heads up (no pun intended), it will turn your car seat and anything your toddler's head touches, orange, so be sure to lay down a towel if you'll be taking a car ride or sitting on any furniture. Don't worry if you make the same mistake I did as it washes out of material pretty easily.
Chucky Costume Item #5: The Accessories
A Chucky costume isn't complete without a threatening weapon and some battle scars. These temporary tattoos are awesome and ended up looking surprisingly realistic. When it's time to take them off, just use a wet washcloth and some soap. Voila!
Costume Finishing Touches
To tie it all together I added some freckles on his face with a brown eyeliner pencil I already had in my makeup drawer. Even though my son had no idea what he was dressed as, he loved the way he looked and was so excited to get out in the world with a knife in hand. Not to mention building his candy stockpile. By the end of the night, he received a ton of compliments, as did I, on his clever homemade Chucky costume.
Well, there you have it. Your own homemade Chucky costume! If you decide to make this yourself, let me know how it turns out in the comments below. Happy Halloween! Be safe out there!
Related to Throwback Halloween-Easy Homemade Chucky Costume For Toddlers:
Get Him What He Really Wants This Father's Day
Mom's Day 2020 Gifts You Probably Didn't Think Of
If you enjoyed reading Throwback Halloween: Easy Homemade Chucky Costume For Toddlers and would like to receive notifications when I post something new, please subscribe here.
Remember to like Mom Snippets on Facebook and follow me on Instagram, Twitter, and Pinterest!