Mom guilt. We've all felt it from time to time. Sometimes it's subtle, creeping momentarily into our thoughts throughout the day. Other times, it's intense, keeping us up at night. Whether short-lived or all-consuming, we moms know how to wrack our brains with remorse. Feelings of doubt fill our heads as we reflect on the day's events, reliving the moments we could have done differently. Motherhood is hard enough without the burdensome thoughts of failure or falling short. So, what kind of things are eating at us? Well, the list is extensive. Much of our mom guilt stems from the simple fact that we give two hoots. Moreover, unrealistic expectations to be perfect from the media and the internet amplify our feelings of inadequacy.
There are many causes of Mom Guilt:
Feeling guilty for feeding formula
Feeling guilty for not breastfeeding, or not loving breastfeeding
Feeling guilty about going back to work
Feeling guilty for staying home because you miss working
Feeling guilty for needing a vacation or time away from your kids
Feeling guilty for getting frustrated or losing your temper
Feeling guilty for allowing your kids to watch too much TV or have too much device time
Feeling guilty for not reading to you kids enough
Feeling guilty over the things you ate during your pregnancy
Feeling guilty for feeding your kids store-bought baby food
Feeling guilty because your baby rolled off the couch
Feeling guilty for not letting your kids play with certain messy toys
Feeling guilty for not getting out of the house enough with your kids
Feeling guilty for bribing your kids to do something and not following through
Feeling guilty for having "second baby syndrome"
And the list goes on and on…
We're all familiar with television, movies, and books depicting the "perfect mom". She's impeccably dressed, has supermodel kids, heads the PTA, and seems to have everything under control. What's funny though, no matter how much seems to be in her favor, our perfect mom rarely assumes the role of the protagonist. So, who's the real heroine of the story? None other than the run-ragged, late-arriving, sweatpants wearing mom, who's kids are constantly bickering, and who can't seem to catch a break. Boxed wine and mom guilt are a part of her nightly routine.
Mom Guilt Care Package
So, what becomes of our perfect mom? More often than not, she ends up having a major crisis of conscience, only to join forces with our real leading lady in the end. While this is a win for imperfect moms everywhere, we should know better than to buy into the hype.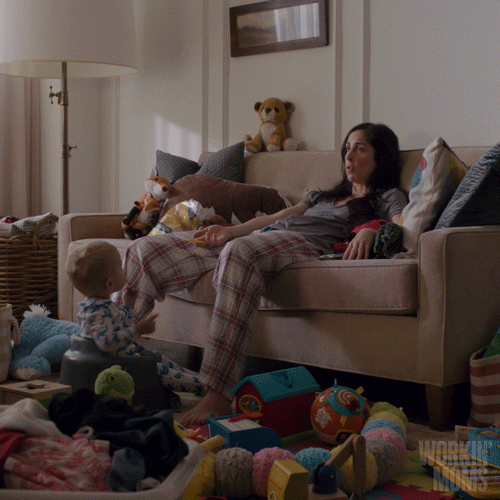 While it may seem like these idolized matriarchs of media have it all figured out, this is just simply not the case. Internet groups and mommy forums further perpetuate this false imagery by collectively shaming moms they see as failing to live up to the standards. But when it comes to parenting, there's no such thing as perfection.
Influences from popular culture have turned parenting recommendations into expectations. Somewhere along the line, we all started believing if we're not meeting them, we're not "momming" right. We all have things we're great at, so it's not worth feeling guilty over our shortcomings. While it may feel like we've only got one shot at this, the reality is, there's plenty of opportunity for refinement. So, let's cut ourselves some slack. There's no right or wrong when it comes to being a mom, only what makes sense for your family.
Related posts:
The Shame Game: An In-Depth Look At Mom Shaming
Anxiety: When To Worry About Worrying
Prevent Mom Burnout: 5 Stress-Relief Tips To Keep A Level Head
Remember to like Mom Snippets on Facebook and follow me on Instagram, Twitter, and Pinterest!
If you would like to be notified when I post something new, please subscribe here. Cheers!