"There is no sincerer love than the love of food"

George Bernard Shaw
Being Italian, my family never needed much of an excuse to eat. Birthdays, graduations, and homecomings were all celebrated with food. While it was a huge part of my everyday life, it provided so much more than just nutrition and sustenance. The smell of sauce simmering on the stove, the clinking of glasses and silverware, and "Old Blue Eyes" on the stereo, bring a sense of comfort and contentment that warms my soul. There is so much value food can bring to the table (ba-dum-tss), from creative interpretation of ingredients and flavors to connectivity to culture and heritage. There's no doubt food is love, and just like love, it comes from the heart, fills you up, and sometimes, it's all you need.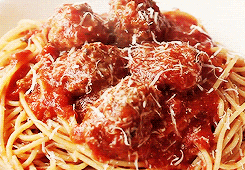 Food is Family
Customs and traditions vary depending on where you are in the world. While many only ever flourish within the boundaries of a particular region, mouth-watering cuisine has a way of transcending borders. With all the divide in this world, a delicious meal is a tried and true way to bring people together.
We've all seen movies and images depicting large, boisterous families crowded around the kitchen table eating, drinking, and laughing. Growing up, this was my family. Some of the happiest moments of my life were spent around that table enjoying a home-cooked dinner with the ones I love.
I wanted to write this entry about food not only because I like to eat, but also because I recognize the significance of a meal beyond consumption. It's a great creative outlet whether you like cooking or baking, and the expressions of flavors and combinations are endless. Food brings people closer. Studies have shown eating together strengthens the family bond, and creates a comfortable environment for sparking conversation.
The taste of food can elicit memories and feelings of nostalgia. Specific recipes and flavors connect people to their homelands and culture, even when generations separate them. Looking back, it's clear that food has been the glue that's kept our family close over the years. As a mother, I recognize the value in using it to enrich my own children's lives.
Food is Creativity
Allowing kids to help in the kitchen gives them an opportunity to be creative, and awards them a sense of pride seeing all the ingredients come together. Enjoying the fruits of their labor builds confidence and teaches them the value of hard work. Kids can do a lot to aid in the preparation of meals even from an early age. Have them add components to the bowl, scoop servings on the plate, hand over utensils, or simply watch things spin in the mixer or boil on the stove. Older kids can help with stirring, decorating, taste-testing, plating, and if you're lucky, clean-up. My toddler loves to help in the kitchen. The hope is that one day he'll be able to prepare more than just Top Ramen and Cup O' Noodle.
When the food is ready our family eats at the table. This is a chance to catch up on the day's events, laugh, eat, and just be together. There's so much chaos during the day it's nice to have moments of calm where we can all wind-down, talk, and enjoy each other's company.
Food is Nostalgic
Some of my favorite food memories as a kid were waking up on Sunday mornings to the smell of my dad's spaghetti sauce. The way it permeated the walls and encompassed our senses, sparked excitement for dinner that lasted the whole day. If I woke early enough, I could help him make the meatballs. I loved the smooshing of ingredients between my fingers, the popping and oozing of the egg yolks, and hands so cold I'd have to take breaks.
These are dear memories I will forever hold close to my heart. Today, when I go to my parent's house and smell the sauce from the driveway, it instantly sends me back to my childhood. Isn't food great in that way? It's so much more than just chewing and swallowing. It's a little piece of who we are, traditions and memories. A labor of love with every bite.
Food is Generational
Another great thing about food is that it has the power to span generations. Just as my Dad taught us to make the sauce, my Grandmother taught him and his siblings. While I never knew my Grandma Grace, I often envision her in her kitchen forming meatballs as the intoxicating smell of garlic and herbs impregnate the air. Food has a way of connecting us to our homes and loved ones, whether they're nearby, separated by oceans, or far beyond the barrier of time.
Generations come and go, but recipes can last forever. I plan to teach my children to make the family sauce with the hope that one day when they have families of their own, they'll pass on the tradition. So, next time you're looking for a place to eat, skip the chain restaurant and give that new little family-run hole-in-the-wall a try; you might be surprised where your taste buds transport you. Salud!
Related to On Top Of Spaghetti: Why Food Is Love:
The Ties That Bind: 5 No-Fail Ways To Promote Family Togetherness
If you enjoyed reading my blog and would like to be notified when I post something new, please subscribe here. Cheers!
Remember to like Mom Snippets on Facebook and follow me on Instagram, Twitter, and Pinterest!
Is there a family recipe or food memory you hold near and dear to your heart? Tell me about it in the comments below. Cheers!